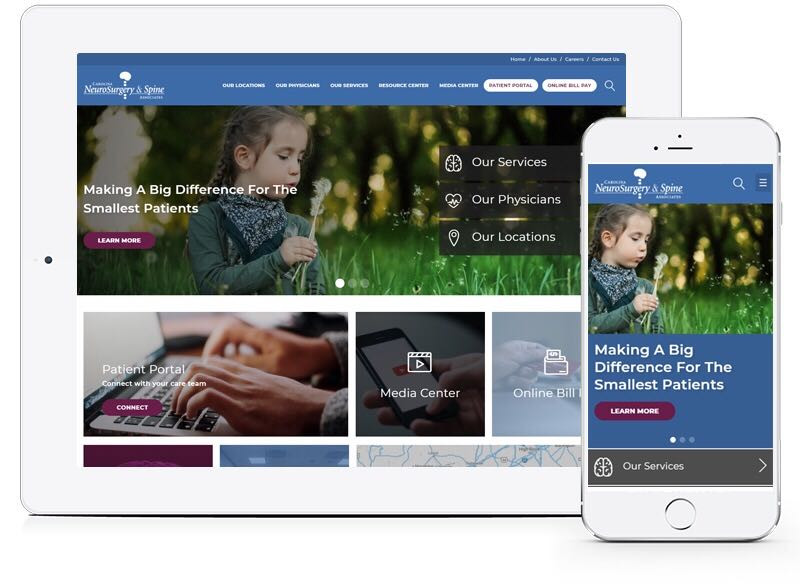 THE WEBSITE
https://www.cnsa.com/

Given that one of our primary industries of focus is healthcare, we are always excited for the opportunity to design and build a new medical website. Rarely, though, do we get to work with an organization the size and caliber of Carolina Neurosurgery & Spine Associates (CNSA) - the nation's largest neurosurgery & spine specialty group. Our most recent launch is a completely revamped web experience for CNSA, leveraging a heavily customized version of the healthcare package of our Echo website platform.

FEATURES & FUNCTIONS
The CNSA website needed to meet several needs for the organization. First and foremost, it needed to be smartly designed to load quickly on all browsers and devices. It also needed a custom look and feel on par with the organization's identity and overall standing in the healthcare community. But beyond the performance and aesthetics, the site needed to deliver an enormous amount of customer-focused content in an intelligent, intuitive way. We placed considerable focus on the look, feel and usability of the site.

CHALLENGES & SOLUTIONS

Content Consolidation
The first and biggest challenge with planning the new CNSA.com website was figuring out how best to wrangle, consolidate, organize and position the enormous amount of content they had compiled over the years. The previous CNSA website was a hodge-podge of tacked-on sections, articles, content pages, videos and resources that were all buried and difficult to find. During our initial strategy and wireframing phase, we worked with the business team at CNSA to come up with entirely new navigation, organization and user flow for the website to improve the user experience and optimize their rich content.

Patient Access & Usability
Like most large healthcare websites, the CNSA site delivers a lot of patient-focused resources and utilities like an appointment scheduler, a patient portal, downloadable pre-appointment forms, etc. We helped CNSA and their support vendors build robust, educational and informational pages throughout the site that guide patients through the process of accessing, registering for and using these various patient tools.

Content Management & Administration
In concert with the front-end content organization effort noted above, we had to place similar thought into how best to set up the administrative area of the site to provide intuitive controls for managing all that content. Our programmers overhauled our existing healthcare website framework to customize the CMS to meet CNSA's specific needs. With numerous custom components, data-relationship and cross-linking tools, document and image managers, and robust SEO management utilities, the CNSA back-end is one of our most sophisticated healthcare website admins to date.

MARKETING & SUPPORT
As is the case with any large client, CNSA was very candid in their selection process about the importance of partnering with an agency that can provide full-scale support for the long-term. Through our retainer-based support relationship model, E-dreamz allocates a dedicated amount of marketing, development and technical support time each month to assist CNSA with administrative updates, website maintenance, SEO, email marketing, brand and reputation management, and overall digital strategy.

If you're an operation or marketing manager in the healthcare industry who is looking for a digital partner that understands the unique needs of top quality websites in the medical web space, please contact us today to discuss what E-dreamz can do for you.